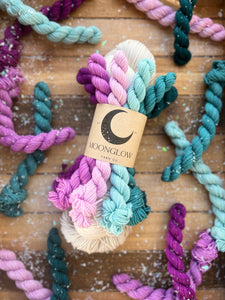 Introducing the Moonglow Polar Nights Collection for Winter 2023! Celebrate winter's glow with an aurora of luminous color! The polar night is peaceful, hushed and still, as shades of shimmering violet 💜 sweet sugarplum 🍬polar pink 💕frosted starlight ❄️ nordic blue 💙and deepest celestial sapphire 🌌 dance across the sky. Light up your winter projects with these ethereal arctic hues! 💫 Moonglow Polar Nights Sock Set  Moonglow Polar Nights Arctic Doodle Cowl Kits (Pattern by Pacific Knit Co)  
---
✨Introducing the Toil and Trouble Sock Set from Moonglow Yarn Co! Part of the Spooky Socks Makealong 2023! 👻🧦Eye of newt 🐸 Dash of nightshade 💜Swirls of spectral blue 🩵the Toil and Trouble Sock Set✨ glows withMoonlit shades of an enchanted witch's brew! 🧙‍♀️ Craft your perfect spooky socks with:✔️The Toil and Trouble Sock Set ✨✔️The cutest cauldron toting ghostie charm from @thelittlestcharmco (seriously do you see the detail in that bubbling potion?!) 👻 ✔️A completely bewitching project bag from @fivetosixhandmade 🐈‍⬛ Perfect for holding all the ingredients for your spooky socks plus Halloween candy 🍬 ✔️A coordinating sock spell/knitting...
---
✨The third annual Moonglow Yarn Co Spooky Socks Makealong is here! 👻💜🧦🧪🐈‍⬛🎃💚💀🪄🧟‍♀️🖤Hosted by @moonglowyarnco, @fiberandfern, @ellyndria.knits, @thelittlestcharmco and @fivetosixhandmade 💕Join this delightful coven of collaborators as we make spooky socks to wear on Halloween night! This year's Spooky Socks Makealong is full of tricks and treats from my favorite makers. Yarn, bags, patterns, charms…oh my! You do not want to miss out on these Halloween delights! Here are the rules! ✨To enter the makelong, knit or crochet a pair of socks (casting on Oct 1st and ending Oct 31st) using one or more of the following items: @moonglowyarnco, a pattern from...
---
The Moonglow Rainbow Yarn Advent 2023 🌈 Moonglow Rainbow 2023 Yarn Advents will go for sale Friday, August 18th at 10:00 am MT and will be ready to ship. This will be the only advent offering this year!Featuring a glowing tonal rainbow of Moonglow colorways, this year's advent is sure to delight color lovers 💕 Each advent set comes with twenty five individually wrapped mini skeins (75/25 Merino Nylon Sock or 75/25 Merino Nylon DK) packaged in a chic Moonglow Yarn Co zippered tote bag, perfect for storing your advent projects! This thoughtfully curated set is perfect for knitting one...
---
✨Introducing the Pineapple Sunset Collection ✨Enjoy the captivating colors of an island sunset in the final collection of the Moonglow Summer Makelong! The Pineapple Sunset Collection glows with warm tropical shades of pink hibiscus 🌺 peachy coral 🪸 mimosa orange 🍊 pineapple gold🍍dusky violet 💜punchy plumeria 🌸and island violet 🌅As beautiful as a watercolor sky 🎨this collection is the perfect way to finish our summer in Moonglow paradise!  Pineapple Sunset Mini Skein Sets, Color Kits (DK and Sock) go for sale this Friday, July 21st at 10:00 am MT at www.moonglowyarnco.com 🌙