Announcing the Spooky Socks Makealong 2022! 👻🐈‍⬛🔮✨Hosted by @moonglowyarnco , @julieannknitter and @thishandmadelife 💕💕💕Starting October 1st, cast on spooky socks with us to wear on Halloween! Cast a spell with a new Moonglow sock set 🔮 a mystery sock pattern from Twin Stitches Designs 🧦 and the perfect patchwork project bags 🕷 from This Handmade Life. Together we have curated the ingredients for the perfect sock potion! 🧪 ☑️ Here are the rules! To enter the makelong, knit or crochet a pair of socks (casting on Oct 1st and ending Oct 31st) using Moonglow Yarn Co yarn, a Twin Stitches...
---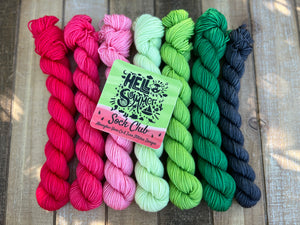 Happy Summer everyone! The Hello Summer Sock Club is in full swing and it's already time to debut July's Sock Set. Say Hello to the Watermelon Sugar Minis and Color Kits! Juicy reds ❤️ sugary pinks 💕 fresh off the vine greens 💚 the Watermelon Sugar Minis create the perfect mouthwatering fade for the exclusive sock pattern @julieannknitter has designed just for this set! 🧦The Watermelon Sugar Minis Set goes on sale this Friday, June 17th at 9:00 am MT! The set comes with six 20 gram mini skeins and one 10 gram mini skein for seeds!Orders placed on Friday...
---
The Hello Summer Sock Club starts today! Join Moonglow Yarn Co and @julieannknitter as we knit summer socks together from June 3rd-August 31! Post pictures of your socks using the hashtag #hellosummersockclub to be entered to win fun prizes all summer long! The only rules are that you must use Moonglow Yarn Co and/or a Twin Stitches Designs pattern to participate! The first sock set of the Hello Summer Sock Club is the Mermaid Fade, available now in the shop! Julie's Hello Summer Sock Club pattern bundle is available at  http://www.ravelry.com/patterns/sources/hello-summer-sock-club Julie and I have also put together a fun...
---
  Say hello to summer sock knitting with the Hello Summer Sock Club! Grab a cold drink and kick up your feet, it's time to knit summer socks with Moonglow Yarn Co and Twin Stitches Designs!  The Hello Summer Sock Club will feature THREE brand new summer-themed sock sets from @moonglowyarnco and THREE brand new perfectly coordinating sock patterns from @julieannknitter We love working together and really…is there anything better than knitting with friends?! We think not! From blissful beach days in June, carefree picnics in July, to the blistering heat waves of August, we have your summer knitting themes...
---
The Moonglow Rainbow Yarn Advent update is happening this Friday, May 6th at 10:00 am MT! Treat yourself this December to a gorgeous tonal rainbow of luxurious hand-dyed yarn! The Moonglow Rainbow Yarn Advent comes with: Twenty five 20 gram mini skeins that are individually wrapped and numbered to open each day in December leading up to Christmas. The colorways will sequence in rainbow order. A Moonglow Yarn Co project bag, perfect for holding your advent project! Advents will be available in the following yarn bases: 80/20 Merino Nylon Sock 20 grams, 80 yards, 73 meters 75/25 Merino Nylon Sock 20 grams,...