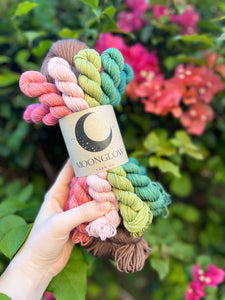 Travel to an island paradise of glowing tropical color with the new Moonglow Paradise Color Collection!The Paradise Sock Set glows with lush shades of pink hibiscus 🌺 juicy papaya orange 🧡pearled coral pink 🪸swaying palm green 🌴vibrant sea turtle teal 🐢 shimmering deep ocean blue 🌊and sweet coconut sugar brown 🥥 Fresher than a Pacific Breeze, this soothing color palette is perfect for your summer knitting! So pack your yarn, needles, hooks and patterns, and get ready for a knitting vacation for the Moonglow Summer Makelong June 1-August 31st! See all the makealong details in my previous post! ✨
---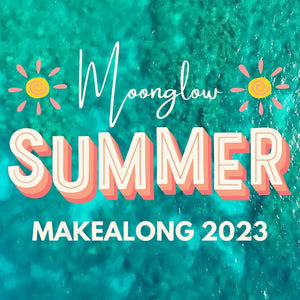 Travel to color paradise for the Moonglow Summer Makelong 2023! Grab a cold drink🍹and kick up your feet 👣 it's time for relaxing summer knitting with two brand new color collections from Moonglow Yarn Co! This year the Moonglow Summer Makealong will feature two brand new color collections (releasing May 11th 🐢 and July 21th 🍍) and perfectly coordinating patterns from some of your favorite designers 🥳 @ellyndria.knits, @fiberandfern and @pnw_knitdesign 💕Our theme this year is Moonglow in Paradise 🏝️and I think you're going to love the lush tropical colors featured in these island inspired sets 😍 And this year, anything...
---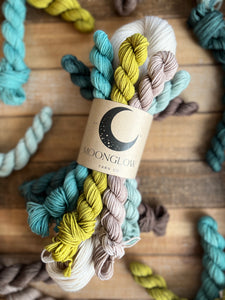 Adventure through a palette of glowing alpine color with the new Moonglow Mountain Meadow Color Collection!The Mountain Meadow Sock Set glows with shades of snow capped summits 🏔️ shaded groves of spruce🌲olivine seas of swaying meadow grass 💚 pinecone scattered paths 🐿️ the turquoise teal of bubbling hot springs 🌀the translucent river mist of crashing waterfalls 🌫️ and the palest woodsmoke haze 🤎 This sock set is a love letter to exploration and adventure! 🥾So pack your yarn, needles,hooks and patterns, and get ready for the Mountain Meadow Makelong April 1-May 31st! See all the makealong details in the previous post!
---
  The mountains are calling…. let's go! Journey to the mountains with Moonglow Yarn Co this spring for the Mountain Meadow Makealong! 🏔️🌲🏕️🌙🏔️🌲🏕️🌙🏔️🌲🏕️🌙🏔️🌲🏕️🌙🏔️🌲🏕️🌙 🏔️🌲🏕️🌙 Inspire your wanderlust with the new Moonglow Mountain Meadow Sock Set 🏔️THREE complementary sock patterns by @fiberandfern, @ellyndria.knits and @julieannknitter 🧦 and a GORGEOUS new colorwork cowl pattern by @pnw_knitdesign💚✔️The Mountain Meadow Makealong details:The Mountain Meadow Makealong starts April 1st and runs to May 31st!To join the Mountain Meadow Makealong you can ANYTHING with the new Mountain Meadow Sock Set or Color Kit 🧶Use the hashtag #MountainMeadowMAL on Instagram along the way to be entered to win fun...
---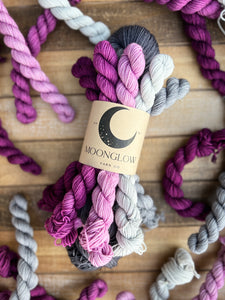 Witches grab your wands (or knitting needles!) it's time to cast a spooky spell with the new Moonglow Yarn Co Spellbound Sock Set ✨🐈‍⬛🔮👻🦇🕷The ✨ Spellbound Sock Set ✨glows with enchanting shades of midnight amethyst 💜velvety nightshade 🔮 ghostly pink 💕cold smoke 🕯and silvery moonbeams 🌙 all paired with a blackened charcoal suited for the darkest of witching hours 🦇 I can not wait to see the sock pattern @julieannknitter conjures with this set! 🧦🧙‍♀️I love unconventional Halloween colors and the magic of this set is that it is both spooky AND sweet 💜💕🖤 Sure to enchant in October and...